Mississippi Fandom: Biloxi
Coastcon: The Brief History
Robert Neagle
[Reprinted from the 1997 Coastcon program book. Thanks to Tom Feller for bringing it to my attention.--TKFW]
Begun in 1977 as a project for the Gulf Coast Science Fiction Association, CoastCon became the first major [local] convention. The convention was not the norm for fan run conventions. It had an elected Board of Directors and had no real emphasis. Instead of all gaming, all media, or all writers, CoastCon attempted to embrace all of those aspects of fandom. Also, by having an "all elected" Board, CoastCon was able to grow and change as fannish interests changed. Early convention presidents such as William Murphy, Michael Scott, Niels Erickson, and Michael Bledsoe worked very hard to bring a Fannish type convention to the Coast. The late seventies were a great time for CoastCon. Such guests as Jo Clayton, C.J. Cherryh, Richard and Wendy Pini, Joe Haldeman, and George Effinger proved that CoastCon was the best way to spend three days.
The eighties brought great change and growth to CoastCon. First, CoastCon moved to the Royal D'Iberville Hotel. This provided more space and a new set of problems. Despite growing pains during those years, convention leaders [were] Michael Scott, Jerry Patton, Dick Fickes, and William Johnson [...]. During this time, CoastCon saw guests such as the Pinis, Robert Adams, Alan Dean Foster and Steve Jackson. With people like this, CoastCon was growing in leaps and bounds, but by the mid-eighties CoastCon had already outgrown the Royal D', the then-largest convention hotel in the region. The time had come for another growth decision.
With loud drums and whistles, convention Chairperson Diane Johnson led CoastCon into what was to become its current home, the Mississippi Gulf Coast Coliseum and Convention Center. The move was considered very controversial at the time, but proved to allow CoastCon growth patterns that hallmark its first ten years. Subsequent convention chairpersons such as Curtis Scott, a.j. Brockway, Clayton Bain and Frank Schiavo continued the traditions of growth and excellence. Guests from this time period include Orson Scott Card, L. Sprague de Camp, Janny Wurts, Don Maitz, Nancy Collins, Walter and Louise Simonson, Terry Brooks, Ben Bova, and R.A. Salvatore.
CoastCon was doing more than that during all that time, however. CoastCon is a literary society after all, and part of a community of caring individuals. CoastCon was doing its best to make the future brighter through its charity and nonprofit work. Local charities such as the Battered Women's Shelter, Special Olympics, Shriner's Burn Hospital, United Way, and the South Mississippi AIDS Task Force were helped by CoastCon. [...]
What about today? CoastCon's current chairman, Robert Neagle, is leading that way as well, bringing in some of the best in guests, the best staff, and the first genuine, seen-him-on-TV star in CoastCon history, as well as a whooping FOUR-day Twentieth celebration to the Coast. With traditions like these still going on, and even more space in the Coliseum to behold, the growing for the next twenty years is assured....
Mississippi Fandom: Jackson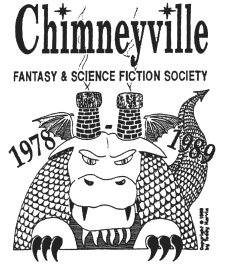 The Chimneyville Fantasy and Science Fiction Society
Ruth Shields and Tom Feller
In 1978, Faith Vedder arrived in Jackson, MS. She began a nearly fruitless search for people who shared her interest in science fiction and fantasy. Faith searched for clubs or literary societies and concluded that if there was to be organized SF fandom in Jackson, she would have to start it. She called radio stations and put up posters. On August 12, eighteen interested people met in Faith's apartment near the Millsaps campus and the Chimneyville Fantasy and Science Fiction Society (CFSFS) was born. Faith chose the name, based on the post-Civil War nickname for the city that had suffered repeated burnings by Union troops.
The second meeting was held at the clubhouse in Livingston Park next to the Jackson zoo, and 24 people attended. In 1979, we continued to meet monthly, most often at the Livingston Park clubhouse but also at members' homes. Unfortunately, the park charged a fee for use of the space, so we eventually stopped using the convenient facilities.
In 1980, we began 13 years of twice-monthly meetings. For the first several years, meetings were held almost alternately at the South Hills Library or in homes. In later years, most meetings were at residences, with occasional semi-public functions held in apartment clubhouses (such as Somerset Apartments). Meetings were varied. There were parties (especially Halloween), gaming sessions, book discussions, movie viewings, and other functions. A spaghetti or chili cook-off was held annually in January.
For most of its existence, CFSFS had 10-15 active members. In 1980, Faith left CFSFS to become active in the newborn local SCA shire, but the club was on its feet by then and survived the loss of its founder.
In early 1979, many of the members attended the second CoastCon. CFSFS sponsored the CoastCon Masquerade Party that year and the next. In 1981, we shared a cabin at Percy Quin State Park with members of the Baton Rouge Science Fiction League and later in the year attended their Halloween party. Several members regularly attended conventions in the South. With our distinctive club T-shirts, we became somewhat notorious among Southern Fandom.
One regular activity through the years was publishing Smart-Ash. The club put out 55 issues over 15 years plus a one-shot called Hippogriff. In the mid-Eighties, the club incorporated as a non-profit organization and put on three conventions in three years: two one-day ChimneyCons and a two-day gaming convention. The guest of honor at both ChimneyCons was George Alec Effinger. In 1990, the club sponsored a day of public appearances in Jackson for George.
Attrition lowered the active club membership to precarious levels until 1993, when a divorce split the membership. Then, the remaining members decided to stop collecting dues and cease publishing Smart-Ash. However, we still meet regularly to socialize. In 1995, Tom Feller reactivated the CFSFS corporation to hold a DeepSouthCon, to be called ChimneyCon 3. It remains to be seen whether this revives organized Jackson fandom.
(Postscript by MLR: Apparently not. If there is any active fandom in Jackson these days, I have not heard of it.)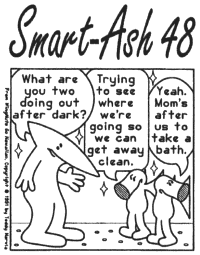 Special thanks go to Samuel A. Smith, who digitized the SFC Handbook 2nd edition and gave gracious permission to use his existing work in the preparation of the 3rd edition. The main text of this page came from Sam's hard work.--MLR