1997 Southern Fandom Confederation Handbook & History
PART III: Regional Survey
---
FLORIDA
Judy Bemis
The South Florida Science Fiction Society (SFSFS) (pronounced Sissyphus), a non-profit organization established for literary and educational purposes, was founded in 1985 by Joe Siclari and Nancy Atherton to foster the appreciation of science fiction in literature. It was the outgrowth of a previous group (which in turn was an outgrowth of SunCon in 1977) that met in the members living rooms, almost none of which were still large enough to hold a group that wanted "new blood." In order to qualify for free library meeting space, we needed to be an organized group.
As first Chairman, Joe had to head the IRS application for non-profit status--a significant advantage to Tropicon, a local con run by the same people in its fourth year. That turned into a several year project due to a larger than average amount of bureaucracy, and a recent ruling from the Atlanta IRS office, where our filing was also to be processed.
When the filing was finally approved in 1987, most of the shareholders of Tropicon agreed to turn the con over to SFSFS.
The first newsletter (immediately titled the SFSFS Shuttle) was one page, and in those days we had one meeting a month, many of which talked about special interest groups in the SF community. As the club got older, smaller meetings were started for special interests, three of the earliest of which were a creative writing group, a book discussion group, and a filking group. Somewhere in there, the club started "inheriting" books, and arranged to rent a storage locker to store a growing library and the Tropicon paraphernalia, especially the art show panels.
In the middle years, much of the club members' time was taken up by bidding, planning, and running MagiCon, but the club continued holding monthly meetings, publishing monthly newsletters, and running Tropicon.
In the past few years, the newsletter has transmorphed into a bi-monthly or quarterly fanzine that the club tried to keep to 24 pages, and the May/June 1995 issue (#119) (allowed over 40 pages) had a six-and-a-half-page tenth anniversary section with pieces by "founding" members and many newer ones. It also had two pages of a proposal to establish a building fund to eventually buy a clubhouse. (Don't many clubs eventually get to this stage?)
The club still has regular monthly meetings, and smaller groups meet now for book discussions, media, filking, writers workshops, and Tropicon. There is an active Book Division, where members can buy virtually any book at a substantial discount. There is a library of thousands of books and magazines available for lending to local members. Thousands of dollars have been raised at Tropicon for charities, and hundreds of pints of blood have been donated to local blood services.
Annual general membership or subscribing membership is $12, and after attending three meetings a member can upgrade to regular (voting) membership for an additional $5. The club mailing address is P.O. Box 70143, Fort Lauderdale, FL 33307-0143.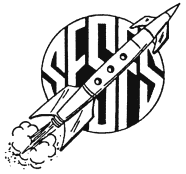 Tropicon XVI (November 7-9, 1997), Doubletree Guest Suites, Cypress Creek, Fort Lauderdale, FL. Guests: Esther Friesner, Josepha Sherman. Membership $21 until 5/5, $24 from 5/16 to 10/16, $28 therafter. Info: Tropicon, c/o SFSFS, PO Box 70143, Fort Lauderdale, FL 33307-0143. E-mail: jb42@aol.com. Web site: http://scifi.squawk.com/tropicon.html.
ORLANDO
Becky Thomson
Orlando science fiction fandom, in its current incarnation, began coalescing in late 1986. John and Becky Thomson had moved to Orlando and were interested both in organizing a local club and in mounting a Worldcon bid. (That bid was successful, culminating in MagiCon in 1992.) They contacted fans they met a Necronomicon in Tamp, posted flyers in Orlando bookstores, placed an ad in the IguanaCon Program Book, and began organizing gatherings in the clubhouse at Excalibur Apartments.
The Orlando Area Science Fiction Society (OASFiS) held its first official meeting on April 5, 1987, with 23 members and $165 in the treasury. The first officers were John Thomson (President), Andrea Rosenberg (Vice President), Lynn Murphy (Treasurer), Susan Cole (Corresponding Secretary), Melanie Herz (Recording Secretary), and Ray Herz (Newsletter). Other people who were active in the club from the beginning include Steve Cole, Dave Rattl, Jerry Masters, Mary Hanson-Roberts, Frank Dowler, Louise Kleba and Gary Fehrman.
Ray produced the first OASFiS Newsletter in May 1987. It contained seven pages and included the first "The Suspended Believer," a book and movie review column by Kimlye Tipton that continued to be a regular and popular feature of the newsletter for several years. An informal poll of members' interests also appeared, indicating that the most popular club activities were the newsletter, parties, discussion groups, and planning local conventions.
By the end of 1987, the club had adopted its by-laws, filed as a not-for-profit Florida corporation, and set membership dues of $12 per year (which was increased to $15 five years later). In May of 1988, the newsletter had been christened The Event Horizon and adopted the same logo that is used today. Ray remained editor through 1991; by that time the average issue was 16 pages.
The first OASIS, the local convention sponsored by OASFiS, was chaired by Ray Herz. It was held on May 21-22, 1988 with guests Andre Norton, Joseph Haldeman and Mary Hanson-Roberts. With a total attendance of 22, 11 dealer's tables and 42 art show panels, the convention made a modest surplus.
From 1989 through 1992, club meetings were held at Enterprise 1701, the sf/game/comics store managed by Frank Dowler. A policy of holding regular meetings on the second Sunday of each month was adopted and remains in force today. OASIS 2, with Mike Resnick as GoH, drew and attendance of 350, and the club itself surpassed 100 members. In 1991, the Andrew Norton Honorary Scholarship was established, funded primarily by charity auctions held at OASIS.
At the beginning of 1992 the pressure of the impending Worldcon forced several of the club's original officers to decline re-election. The "new guard," who continue to be most active includes Mike Mize, John and Beverly Ferguson, Lloyd McDaniel, Jim Rogers and Curt Harmon.
November 1995 saw the 100th issue of The Event Horizon. The convention has continued every year. OASFiS meetings continue to be held monthly, currently at the Orlando Public Library.
For more information: South Florida Science Fiction Society, P.O. Box 70143, Fort Lauderdale, FL 33307-0143. Dues: $15 annually. Subscription to SFSFS Shuttle: $12 annually. Officers: Chair Shirlene Ananayo, Vice Chairman Pete Rawlink, Secretary Mal Barker, Treasurer Bob Ewart http://scifi.maid.com/sfsfs.html
Orlando: OASIS 10 (May 16 - 17 '97), Harley Hotel, Orlando, FL. Guests: Stanley Schmidt, Ron Walotsky, Ray Herz, Ben Bova, Mike Resnick. Membership: $22 to 3/15/97, $25 at the door. Info: OASFS, P. O. Box 940992, Maitland, FL 32792-0992. 407-263-5822.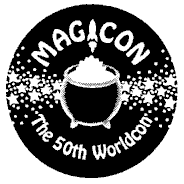 A Short History of MagiCon
Judy Bemis
The bid for what became the 1992 Orlando Worldcon was officially started by Becky Thomson with a quarter page advertisement in the 1986 Atlanta Worldcon program book. Becky had recently moved to Orlando and, having been involved in a previous Worldcon bid for Seattle, WA, looked at Orlando in that light, and found what she thought were several possible venues in the area. Central Florida had no organized literary SF clubs or regular literary SF convention at the time, so she saw the "expression of interest" ad as a way to find out if there were enough people willing to do the work of organizing and working a bid. She had previously written to Joe Siclari, a well known convention and fanhistorically oriented fan who lived in southeast Florida, but had not reached agreement on getting his help at that time.
Several "organizational" meetings were held that fall and winter, at a local con in Tampa (Necronomicon), and at the clubhouse in Becky's apartment complex. At one of the first meetings at the clubhouse, the attendees were invited based on interest in either forming a local club or a Worldcon bid, and split out to two groups on that basis. One of our earliest active supporters was author Andre Norton.
After some negotiation, Joe agreed to become part of the bid, in the position of the third co-chair (with Becky and Tom Veal), and the bid started actively partying, just in time to start before Washington, DC.
With them as competitors, we knew we had our work cut out for us. Several committee members called on several friends from other areas of the country, and got them interested in also being on the committee, giving us visible added experience. Becky, Edie Stern and others came up with innovative bid gimmicks, like the midnight raffle for presupporters and the "Magic Potions."
Shortly after Easter, 1989, DC announced that they had lost their first option contract on the Sheraton Washington, and were going to have to fold their bid, which resulted in MagiCon winning the site selection vote (although DC still received votes in the count).
Having won, we now had to plan and run the con. During bidding, we received several of the sorts of "if you win, we'll help then" sort of messages from people, and we started to take them up on it. We continued the bid theme of "Where Magic Meets Technology." We planned (with the help of many of our Boston area friends) our "Concourse" and the putt-putt golf course to make the best use of our facilities. We arranged a special "Art Retrospective" exhibit, and a luncheon with former Astronaut John Glenn. Having chosen Walter Willis as Fan GOH, we placed a heavy emphasis on fan history, the fan lounge, and helped arrange a "Minneapolis in '73 suite," which I heard was the talk of the fanzine fans attending the con.
TAMPA BAY
Ann Morris
The Stone Hill Science Fiction Association has been here in Tampa Bay (well, not exactly in the bay but on the land near the bay, you literal minded people) since January 18th, 1979. The club meets the second Sunday of each month with some rare exceptions when an SF convention falls on the meeting or a tidal wave washes away the meeting place. The meetings are held at the homes of members brave or foolish enough to volunteer to have them at their dwellings. Beginning time is from 1:00 to 2:00 p.m. and ending time is whenever we all have realized that we have homes and ought to go to them. Unless, specifically stated as otherwise, all events run on this sort of Stone Hill Time.
In the months of February, April, June, August, October, and December, they are located at Chez Benet (actually the home of Linda and David Bennett) at 12215 Spottswood Dr., Riverview, FL. These meetings are always host to the bloodmobile from Florida Blood services. Members are encouraged to donate blood as a service to their fellow humans. (Well known and loved SF writer Robert A. Heinlein was a strong advocate of blood donation and at his urging, it became a "cause" for fans all around the nation.)
Most of the meetings in the remaining months are held at the Lovers Lane house (sometimes known as "Maison Maurice" when the Morris who are some of the members of that household are having dinner guests) at 12524 Lovers Lane, Riverview.
All you have to do to become a member of this famous, or is that supposed to be infamous, club is to come to meetings and bring food and soft drinks. Meetings are rather more in the vein of a First Church of Science Fiction pot luck social than the formal sort of meetings you will find at the clubs of the Elks, Moose, Lions and Loyal Order of Water Buffaloes. We have no officers, no dues and only a couple of unwritten rules. The rules are that you don't propose work to be done unless you are willing to do it yourself and... Uh, well, I forgot the other rule. It must not be very important.
At our meetings, we do sometimes have a short business meeting to discuss issues of importance to the club members, such as our yearly convention Necronomicon, helping out some with some charity, or planning a group outing, but if you wish not to participate in those meetings, you don't have to. It's okay. We started this club so we could have fun and we figure it ought to stay that way, so if you don't think something is fun, we don't make you do it.
If you would like to be one of us, you are most welcome to be. You can call the Lovers Lane house for specific meeting information at (813) 677-6347.
We do have a monthly club newsletter that you can request to receive by mail if you cannot attend meetings. It's as informal as everything else we do. If you want the newsletter sent to you, let us know by writing to us at P.O. Box 2076, Riverview, FL 33569, E-mail us at CompuServe 74273,1607, or call the Lovers Lane phone number and ask for me--Ann.
Necronomicon is the Tampa Bay area's only annual science fiction, fantasy and horror convention. It is held each October in Tampa, Florida. The convention features authors and artists and others who work in fields related to science fiction, fantasy and horror as guests of honor and program participants.
Convention members will be able to visit author and artist panel discussions, workshops, art show, dealers room, Friday and Saturday night dances, continuously open hospitality suite, role playing and card game room, masquerade, Official Creatures of the Night Pageant, and a charity auction to benefit Wildlife Rescue, Inc, where they will be able to see and pet a live Florida panther.
Membership costs $25 for all three days or $10 for one.
More FL clubs and conventions:
Clearwater: American Tolkien Society, Box 901 Clearwater, FL 34617. Newsletter: Minas Tirith Evening-Star. Contact: Paul S. Ritz.
DeLeon Springs: HMS Solar Queen II, PO Box 836, Deleon Springs, FL 32130. Semi-monthly meetings. Contact: Gary Gordon.
Ft. Lauderdale: Hurricon Clive (Feburary 2-4 '96), Holiday Inn Beach Resort, Ft. Walton, FL. Guests: Clive Barker, Philip Jose Farmer, Peter S. Beagle, Brian LeBlanc, Walt Baric, Shaun Carnes, Margaret Weis. Membership: $20 to 10/15/95, $25 to 11/15/95, $30 to 1/1/596, then $35. Info: HurriCon Clive, 328 N. Eglin Pkwy., Ft. Walton Beach, FL 32547. 904-863-8810.
Ft. Lauderdale: 17th Annual Conference on the Fantastic in the Arts (March 20-24 '96), Ft. Lauderdale, FL. Academic conference. Guests: Greg Bear, Brian Aldiss, Tom Shippey. Membership: to be announced. Info: International Association on the Fantastic in the Arts (IAFA), College of Humanitites, 500 NW 20th HU-50 B-9, Florida Atlantic University, Boca Raton, FL 33431 (717)-532-1495.
Green Cove Springs: LORE (Legends of Reality Enacted), PO Box 717, Green Cove Springs, FL 32043. Live-action role-playing. Monthly meetings and Newsletter: Fairy Rad. Contact: Cindy Sudano.
Kissimmee: Alliance of Gaming Enthusiasts and Rogue Society, c/o GOTH, 105 Honeywood CT, Kissimmee, FL 34743. Monthly meetings and newsletters: Rogue Society and AGE Tome.
Lake Mary: The Guardians of Gallifrey, 170 Broadmoor Ave, Lake Mary, FL 32746. Dr. Who and British SF. Monthly meetings and newsletter: The Gallifrey Guardian. Contact Julia Langston.
Lantana: Order of Star Knights, 513 Greynolds Circle, Lantana, FL 33462. Contact: B.F. Scalley.
Maitland: Orlando Area Science Fiction Association, P.O. Box 940992, Maitland, FL 32794-0992.
Miami: Black Point Naval Yards, 17842 SW 77 CT, Miami, FL 33157. Modeling and rocketry, weekly meetings, and newsleter: The Blue Ghost. Contact: George Dorris.
Miami: Sea-Con (May 2 - 5 '97), cruise out of Miami, FL. Guests: to be announced. Info: Sea-Con, c/o Uniglobe Gem Travel, 633 South Main Street, Milpitas, CA 95035, Attn: SAM Conaty. 800-980-9192 ext. 1701.
Orlando: 16th Annual International Space Development Conference (22 - 26 May '97), Orlando, FL. Info: Barbara Harris--407-296-5251, fax 407-5261. E-mail: 74010.3165@compuserve.com.
Panama City: Panhandle Science Fiction Society, 3911 Ereno Ct., Panama City, FL 32405
Pine Hills: The Omega Society, 3415 Silverwood Dr., Pine Hills, FL 32808-2847.Dr. Who and other media, monthly meetings. Newsletter: Omegazine. Membership: individual $15 annually, family $20, Newsletter: subscription $9. Contact: John Martello.
Tallahassee: North Florida Gaming Association, 931 Kendall Dr, Tallahassee, FL 32301. RPG, card, board, and miniature gaming. Weekly meetings and newsletter Legends and Legions. Contact: David Glenn.
Windermere: Bajoran Alliance, Box 653 Windermere, FL 34786. Newsletter: The Wormhole. Contact: Ann Gabele.
---
Questions? Comments? Send e-mail to: ssmith@smithuel.net
---
Copyright (C) 2000 Samuel A. Smith and T.K.F. Weisskopf All Rights Reserved
Last Revised: Sat Jan 22 14:29:20 CST 2000
Previous | Next | Home