1997 Southern Fandom Confederation Handbook & History
PART III: Regional Survey
---
GEORGIA
Binker Hughes
Beginnings
Atlanta fandom begins with books and bookstores. The first organized group of Atlanta fans, the Cosmic Legion (later renamed the Atlanta Science Fiction Organization, or ASFO) got its start when a long-time fan, Jerry Burge, advertised his collection for sale. When he found there were other fans in town, he kept his collection and an organization was formed. Members of that early group included Jerry Burge, Henry Burwell, Walt Guthrie, Carson Jacks, Ian Macauley, Jerry Page, Hank Reinhardt, Dewey Scarborough, and, later, Greg Benford. From its founding in 1950 until the members were scattered by relocation and the like almost ten years later, ASFO put out fanzines, gave and attended conventions, and founded and participated in apas--but, much more importantly, the members formed a nucleus of people who engaged in most or all of the activities we think of as "fannish." Only the members of that first group could tell us if they were emulating things they'd heard about or making it up as they went along, but just consider...
Publications:
The group published Cosmag, ASFO, and combined issues of Cosmag and Henry Burwell's excellent Science Fiction Digest that used the upside-down-and-backwards trick for the two distinct zines that was later used in Ace Double paperbacks. One issue of ASFO in 1953 was co-edited by Arthur C. Clarke, while passing through (staying with Ian Macauley). Jerry Page published a highly respected genzine called Lore that was a touchstone among those founding later ASFOs. As a group project, ASFO published a hardcover edition of Sam Moskowitz's history of fandom, The Immortal Storm. On the professional side, Jerry Page achieved every fan's dream of selling a story to John W. Campbell at Analog. Jerry Burge was a successful professional artist and Gregory Benford later became an sf writer. In addition, ASFO members were active in starting the Southern Fandom Group and were early members of the Southern Fandom Press Alliance (SFPA).
Conventions:
In 1956, ASFO gave a regional sf convention named Agacon (Guest of Honor: Theodore Cogswell) that attracted 56 attendees. In addition, they travelled to the other conventions that were beginning to be held. An important "spin-off" activity is that legend-in-his-own-time Reinhardt founded the South's first chapter of the Society for Creative Anachronism.
Conventions, even then, seemed to represent a pinnacle of fannish exertion, achievement, and burn-out; so it wasn't long after Agacon that ASFO dwindled to nothing, sped by members being relocated for jobs. Page, Burge, and a few others kept up limited fannish activity, but it was the 1960s before Atlanta fandom began to grow again.
ASFO 2
The phoenix of Atlanta fandom rose from the ashes thanks to bookstores--especially Jim Battle's Peachtree Book Shop, where many of the members met each other; and Cantrell's, where one of the founders, Glen Brock, worked. Both stores carried Jerry Page's zine, Lore, but Battle's store, where hard-to-find sf was readily available, was a mecca for sf fans. Through Jim Battle, the new group learned of the original ASFO and gained many members, such as Steve Hughes who, from North Georgia, dealt in posters from "golden age" sf and monster movies. Glen Brock, Joe Celko, and Steve Hughes were early participants in ASFO 2, which was founded soon after the original Star Trek premiered.
As the group grew, it also became active (abetted by Ned Brooks, when in town). Brock published a genzine called Neutron and soon, members started travelling to conventions. Many tales can be told of their trips to the Nebula Awards banquet in New Orleans, to Janie Lamb's 1969 DeepSouthCon 9 in Knoxville, and so on. By the '69 DSC, ASFO 2 would win the 1970 DeepSouthCon bid. Agacon '70, named after its 1956 predecessor, was chaired by Glen Brock with Joe Celko and Steve Hughes as chief henchmen. It had a movie program, extensive dealer space, an art show, and most of the amenities we have come to take for granted at DSCs. Sam Moskowitz was GoH, Richard Meredith was MC, and attendance topped 100, including a few legends of Atlanta fandom, such as Hank Reinhardt and Jerry Page.
ASFO 3
Post-congiving gafiation took its toll, but Atlanta fen continued fairly active. A very trying joint trip to the Boston WorldCon(?), however, frayed nerves enough that soon much of Atlanta's fannish activity was in apas, or in friendships among former members. Atlanta fans travelled to conventions--such as Irvin Koch's 1971 GnomoClave, where we all met Kelly Freas and Andy Offutt--but ASFO 3, chaired by Steve Reed, was short-lived. Members of ASFOs of the time included Lamar Blaylock, Janet Davis, Avery Davis, Ruth Early, Pat Morrell, Marilyn Ogletree, George Orentlicher, Richard Garrison, Allen and Barbara Greenfield, John Ulrich, Allen White, and lots of others, as well as Joe Celko, Steve Hughes, and Steve's lately-acquired wife, Binker, who was briefly Secretary of the SFC in the mid-seventies and designed the SFC patch.
AtlantisCon and its Successors
The 1971 DeepSouthCon was enlivened by a fake bid for Atlanta in '72, cooked up by the Hugheses and Joe Celko the night before driving to New Orleans. Like all fake bids, it won--15 to 13, with at least 20 abstentions. Held at the same site as Agacon '70, AtlantisCon featured Hal Clement (Harry Stubbs) as GoH, Kelly Freas as MC, a George Pal film festival, and the first official Southern Fandom Hearts Tournament (won by an unknown, never seen since).
At this time, Atlanta fandom was still all-encompassing, including fans of hard sf, sword-and-sorcery, comics, fantasy, Burroughs, monster movies, Star Trek, and lots else. The sub-groups sniped at one another in a good-natured way, but true rifts came from personalities, not interests within fandom. Glen Brock reappeared and won the bid for the 1974 DSC, intending to make it a wide-open sf carnival. Unfortunately, he was out of town or otherwise unable to pursue it, so it fell to Joe Celko to pick up the pieces a short time before the Con. The result was controversial, but gave us all a chance to meet Thomas Burnett Swann.
Atlanta gave another DeepSouthCon (XIV, in 1976), chaired by the Hugheses and Celko again, but this time with Binker as the official "chairman" instead of Steve. Rebel and Phoenix awards were given (as they had not been in 1972 due to receiving no nominations), with the Rebel going to Ned Brooks and separate Phoenix awards for writing (Manley Wade Wellman) and art (Gahan Wilson). The GoH was L. Sprague de Camp and the MC was Kelly Freas. Surprisingly, such records as exist indicate that DSC XIV had exactly the same attendance as AtlantisCon: 162.
Apas, Etc.
Meanwhile, Atlanta fans became increasingly active in apas. Several were in SFPA and, from nearby Rome, Georgia, Cliff and Susan Biggers were Official Editors of Myriad. This drew together fans from the Atlanta/Rome/Athens area, including the Biggerses, Celko, the Hugheses, George Inzer (then in Athens), Sue Phillips, Gary Steele, mike weber, and (when they were in town) Ned Brooks and Stven Carlberg. Occasionally, Reinhardt or Page could be talked into a contribution or a brief membership.
At this time, Rome and Atlanta fandom briefly merged, and the resulting group began to become an organization again. After inventing a fictitious group (the Fantasy and Science Fiction Society of Atlanta, or FSFSA, with such officers as The Nameless One, and The Nameless Other), a group took shape without much of a formal name, composed of apa-friends and a lot of others. Ward Batty, Ginger Kaderabek, Rich and Angela Howell, and several others formed the backbone of this Rome-Atlanta organization. The remainder of the 1970s saw low-key fanac in Atlanta. The club continued to meet, including forming a short-lived writers' group; members continued active in apas and con-going; but the balance was shifting to fans who hadn't been burned out by con-giving. So let's briefly summarize and pass the flaming phoenix to someone active in the 1980s and thereafter.
Publications:
Apa activity dominated publications by Atlanta fans after Brock's Neutron ceased publication, [but Cliff Bigger's clubzine for ASFiC during this era, Atarantes, was "truly wonderful."] Also, Richard Garrison's Heritage Press brought out some beautifully illustrated and printed hardcovers of hard-to-find books by Hal Clement, Thomas Burnett Swann, and others, plus a paperback collection of sf cartoons.
Conventions:
This was the age of Atlanta con-giving, hosting DSC in the even-numbered years 1970-76. Held at the "traditional" (weekend before WorldCon) time and (with the exception of the '74 "sf carnival") emphasizing such now-familiar activities as panels, a film program, a hearts tourney, art and dealer rooms, etc., these DSCs--with their odd-numbered-year New Orleans counterparts--established many of the patterns we take for granted in DSCs. Also in this time, the HalfaCon held in Rome by the Biggerses and Gary Steele introduced area fans to relaxacons.
Professionals:
B.B. Sams (whose art adorned '72 and '76 Atlanta DSCs), Bob Maurus (whose work was first seen by fans in the '74 DSC art show), and others gave Atlanta a presence in professional art. Jerry Page continued to publish professionally, including anthologies and, in the '70s, a magazine: Witchcraft and Sorcery. Cliff Biggers became the proprietor of Dr. No's, a comic shop and bookstore (which has expanded to several locations) and, with Ward Batty, began publishing Comic Shop News. Steve and Binker Hughes and Joe Celko sold non-sf writings (mostly computer articles), starting Celko's successful career in computer writing (and, when he heard the rates, leading Jerry Pournelle to do a column for Byte). Glen Brock has published mystery novels.
The phoenix of Atlanta fandom never really seems to die. It may dwindle, but soon grows again, with a few fans from former years still present at conventions, in apas, or just in sf-related conversations at bookstores. Jerry Page and Hank Reinhardt, from the earliest Atlanta fan group, are still active in various ways; Steve and Binker Hughes (now divorced) and Joe Celko are in apas and attend cons; and Cliff and Susan Biggers, Ward Batty, and Sue Phillips, are still found at cons, in apas, etc. So even if Atlanta fandom looks inactive, don't believe it: in the ashes lie the seeds of the next Atlanta fandom, in friendships and memories from the past.
---
The 1986 Atlanta Worldcon:
Confederation
[In my quest for journalistic completeness I have to admit that what I sought for coverage of this was a behind-the-scenes look at how the Atlanta worldcon came to be. What I have instead is a memoir by one person. Meade's worldcon was very different from mine. My highlights included listening to the smoffing in the 24-hour New Orleans bid party suite while eating Dennis Dolbear's jambalaya, the floor of the sci-fi Marriott that was the con suite, and plates of hors d'oevres being brought out constantly, Bob Shaw's star turn as Toastmaster, drinking gin at the Holland in '90 party, registering my idol Ian Ballantine as a walk-in when I was working registration one morning, running up and down 26 flights of stairs one night when the elevators went out and I had a date to keep, and by lucky happenstance dragging Rusty Hevelin to the Hugo ceremony and sitting next to him as he learned he won the Big Heart award. But you know, idiosyncratic as it is, I think Meade's essay reflects the spirit of the Atlanta worldcon experience--for the attendees, if not the committee--far better than the expose I thought I was seeking. Like Bradbury's GoH speech, it reminded me what all of this craziness is about. Thanks to Charlotte Proctor for bringing it to my attention.--TKFW]

"The Most Wonderful
Day of My Life...."
Meade Frierson III
[First published in Anvil 41, October 1986, Charlotte Proctor, publisher.]
...is how I described August 30, 1986 to my wife, Penny, and later to editor Charlotte Proctor. To put this remark in context, I must tell you that day was amid Confederation, the 44th world science fiction convention in Atlanta. ConFederation truly represented what I had always imagined my first southern worldcon would mean: 1) the presence of southern fans from my early fannish days who may or may not attend regional cons any longer, and 2) the "crazy" worldcon experience only savored five times before.
However grand those elements were (and they were!!), there was one feature of this con which makes it an impossible act for any other con to follow. I refer, of course, to the fact that ConFederation was the first worldcon honoring the writer who has most influenced my life, Ray Bradbury.
Ray Bradbury wrote the stories which were broadcast into my mind indelibly on the radio program Dimension X (at age 10 before I read much), spread on the silver screen when I was 13, and translated into my favorite E.C. comics. Thus hooked, I read everything he wrote.
So Ray Bradbury came to ConFederation. On Friday he gave the most rip-roarin', inspiring Guest of Honor speech in the history of conventions. Decked out in his wonderful ice-cream suit, he told us about himself and about us, about the ideas we love and expressing that love. On the way out I met him briefly and he was photographed with Penny.
On Saturday morning, these themes were further explored and elucidated by the question-and-answer session. His answers were prompt and fascinating, and he explained that a prompt response insured an honest answer (from the heart, before the mind could play games with the truth).
I have been a corporate lawyer, and apparently a good one, but for less than half my life. Whether he knew it or not, what Bradbury was telling me, reminding me, by his revelation, his presence, his example, was that I am much more. I am, as he is, the books, comics, radio shows and movies that I loved: I am the poems I have written and will write again. I am the enthusiasms which should not be stifled, the emotions which should be touched. Bradbury speaks, without guile, of grown men weeping with the excess of emotion provoked by one person or event or another. A writer such as he is not much entrammeled with society's conventions and his weeping would seem proper. It is not an admission which a scientist, politician, businessperson or lawyer should readily admit. But I will not be the same after ConFederation.
So, Saturday afternoon was my time to escort Ray Bradbury to bookshops outside the hotel. Atlanta's finest stretch-limo had been provided and we were joined by Tom Teepen, an intelligent columnist for the Atlanta Constitution. The throngs at the bookshop (Border's) were astounding--and a bit astounded as he jogged to the signing dais attired for the tennis courts. As if to emphasize that my disbelief had to be suspended, I encountered, as assistant manager there, a fan from Birmingham I had not seen for 15 years. The time there, with each of Bradbury's admirers telling him little stories and of their special loves among his works, and his stories and responses, was yet another treasured event for me.
Lest I be tempted to deify this wonderful man, that day I was reminded of the fans of another man-in-white, Lawrence of Arabia. Like the character played by Anthony Quinn, I have to admit "he is not perfect." At age 66 Bradbury had forgotten my 1973 contract to produce a comic in which Steve Fabian was to have illustrated "Leviathan '99" (a then unpublished BBC radio drama by Bradbury based on the Moby Dick theme) and a tale of Spender from The Martian Chronicles. He also did not recall the piece for TV in which he, his wife and daughters portrayed a family in a house in the future. He is not perfect...but God doesn't often make 'em any better.
After the book signing he autographed a small selection I had brought from my extensive collection--a copy of Dark Carnival (previously autographed in 1948), a Bill Nolan fanzine of tribute in 1952, a first edition paperback Martian Chronicles, his marvelous portrait executed by Wade Gilbreath for the program book, and his most recent novel, a mystery.
After that, because of some slipped plans (not the convention's fault), a second autographing session was not necessary so I suggested some drinks and Tom Teepen suggested his home. There, Sara and Tom Teepen, Ray Bradbury and I lounged comfortably, had some beers and talked about all manner of interesting things. It was not strictly an interview and I don't know yet whether Teepen wrote anything as a consequence. But it was more opportunity to hear this man talk, for me to learn, to continue the cherished experience of understanding how to read the deceptive course between emotions and the excesses branded as "maudlin" or "sentimentality." (Those words were never expressed--the concepts discussed as such at no time.)
Those four hours away from the hotel (with its sfnal vistas and neat "crazy" people) are never going to escape me. I cannot truly share them with you, as I have discovered in writing this, because it was a personal experience and, for me, those seem to suffer when written in detail...the characterization chosen gains reality and the memory becomes restricted to the written version. Thus, the experience's nuances and continued percolating effect might be thwarted and I cannot risk that even for the kind ladies who made this experience possible for me--Penny for forging ahead with a con which would honor Bradbury (and seat me within 20 feet of his grand speech) and Charlotte for placing me in close proximity to him outside the hotel.
In summation, your honors, I wish to plead guilty to the charge of adoration. Even from his writings, I did not fully appreciate all the themes and messages until I had this personal contact and now it all makes sense, now I know what writers since Homer have been trying to do--Ray Bradbury is a living, radiating example of the art of writing and that most noble of the arts, that of being a human being.
Ray Bradbury gave us the vistas of a colonized Mars and the rain-forest of Venus. No matter that now we know these places cannot exist in this solar system: it is of no more importance than that Camelot or Moby Dick are not "real." He showed us the dark side (and power) of "innocent" children and yet behind the chills lay truth--always a pro-human, upbeat message. For every grand future, love can make it happen; for every dark alternative, love can keep us from this. For these and all his other gifts, let us be truly thankful.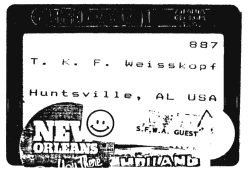 Atlanta Worldcon: What Have
You Done for Us Lately?
[From a press release published in P.L.'s SFC Bulletin Vol. 4, No. 4, Jan. 1989 and a later update in Sept. 1989.]
WorldCon Atlanta, Inc. has approved grants for over $45,000 from the operating surplus remaining after Confederation, the 1986 World Science Fiction Convention.
In a steady process since the Fall of 1987, the Board of Directors of WorldCon Atlanta, Inc. has approved grants and donation for the benefit of the science fiction community and to advance SF and fantasy literature. The recipients have included small press publishers, a program for handicapped fans, and the World SF Society.
Electrical Eggs, a nonprofit corporation dedicated to the increase of handicapped access to Sf conventions, received a grant in 1987 for $2,430 for its organizational costs and its work, which included publication of a manual for convention committees.
Unnameable Press, a small press publisher located in Atlanta, received a $5,000 grant to support the 1989 publication of Where the Black Lotus Blooms, an anthology of dark fantasy. Centauri Express, a SF radio drama on tape, was given a grant of $5,000 to subsidize the cost of its initial release.
The World Science Fiction Society Mark Registration and Protection Committee was given $1,000 to support its activities.
The fan funds to support travel for fans to and from Australia and Europe were each given grants: DUFF ($1,000), TAFF ($1,000) and GUFF ($750).
The Eastern Connecticut Library Association was given $5,000 to support a program to promote SF literature in the public schools. The Orlando Science Center received a grant of $1,000 for its show of SF art and artifacts called "Outer Limits."
Neil Barron, the editor/publisher of The Critical Guide to Fantasy and Horror Literature, was given $5,000 to support its publication. Ed Meskys, the publisher of the fanzine Niekas, was given a grant that permitted the publication of a fanzine for the visually impaired in time for Nolacon II [the worldcon in 1988].
The publication of two issues of the Bulletin of the Southern Fandom Confederation was subsidized by grants and other assistance totally about $4,500. [...]
[The Science Fiction Research Association got for $3250 for publication of The Pilgrim Award, an anthology of award-winning literary criticism of science fiction, The SF Oral History Association got $2,000 and Horror House, a small press dramatized audio-tape magazine, similar to (and co-operative with) Centauri Express, got $5,000 to subsidize cost of their initial releases.]
Dragon Con:
11 Years in Southern Fandom
Ed Kramer
Dragon Con was launched in 1987 as an outgrowth/evolvement of a local SF and Gaming group, The Dragon Alliance of Gamers and RolePlayers (DAGR). The name "Dragon" in both the club and convention was derived from the Dragon Computer (a European version of radio Shack's Color Computer), which hosted a local Bulletin Board System ("The Dragon") that initially served as a central hub for both organizations. The convention, as well as the group and BBS, was founded by Ed Kramer, who still serves as Convention chairman. The original board of directors also included John Bunnell, David Cody, Robert Dennis, and Pat Henry, and all remain as an integral part of Dragon Con to this day. In fact, nearly 50 "ten-year" staff and guests were honored as part of Dragon Con '96!
The inaugural Dragon Con flyers debuted at the 1986 Atlanta Worldcon. However, by the following year Dragon Con had been selected to be the host of the 1990 Origins convention, and so had penned a seven-year contract with the Atlanta Hilton (for 1990 through 1996)--all prior to the start of its first even! Dragon Con '87 featured Guest of Honor Michael Moorcock (his first convention appearance in twelve years), Robert Asprin and Lynn Abbey, the late Robert Adams, Richard "Lord British" Garriott (who will make his 11th Dragon Con appearance in 1997), Gary Gygax and Toastmaster Brad Strickland; just over 1,400 fans joined in on the fun! Mirimar recording artist Jon Serrie delivered his keyboard arrangements from within a real NASA flightsuit (with helmet), while Moorcock and Blue Oyster Cult vocalist/guitarist Eric Bloom jammed on-stage, performing "Veteran of the Psychic Wars" and "Black Blade"--thus launching live concerts as a Dragon Con annual tradition. Thomas E. Fuller and the Atlanta Radio Theatre, who've become another annual tradition, performed H.P. Lovecraft's "Call of Cthulhu." Even Ms. Marvel got her first stage appearance in 1987; her debut CD release party will be held at this year's convention!
Dragon Con's 1987 and 1988 conventions were held at the Pierremont Plaza Hotel. However, with Anne McCaffrey as Guest of Honor in 1989, Dragon Con relocated to the Omni Hotel and Convention Center to accommodate the 3,500 fans that attended! As host of Origins '90, Dragon Con more than doubled in size with Guest of Honor Tom Clancy, providing the Game Manufacturers Association (GAMA) with one of its largest and most successful conventions to date. Dragon Con '90 also marked the inclusion of an entirely new facet of the convention, the Atlanta Comics Expo, which was held simultaneously with Dragon Con at an adjacent hotel.
Later that year, Dragon Con featured Michael Moorcock and Harlan Ellison at the Georgia Fantasy Convention, a smaller literary event which set the groundwork for the 1992 World Fantasy Convention (held in Georgia's Calloway Gardens resort). Also in 1992, Dragon Con and Atlanta's Dark River Writers assisted in the presentation of the Science Fiction and Fantasy Writers of America (SFWA) annual Nebula Awards Banquet Weekend. (held at the Sheraton Colony Square Hotel). At the 1992 worldcon in Orlando, FL, Dragon Con won its bid to host the 1995 North American Science Fiction Convention (NASFiC). Later that year, Dragon Con also received the bid to host the International Starfleet Conference as part of its 1995 convention. The combined event set a Dragon Con attendance record with over 14,000 fans participating in the event. The program book, edited by staff writer and editor Paul Cashman, won the Georgia Printers' Association Award of General Excellence for the year. Also in 1995, Dragon Con staff assisted in the presentation of the World Horror Convention, held at the Sheraton Colony Square Hotel.
The 1994 worldcon in Winnipeg, Canada marked a surprise bid for Dragon Con to host the 1998 worldcon (after finding out that it would have to shift dates in 1998 to Labor Day weekend). There was relief when Baltimore received the 1998 bid, [themselves] having abandoned the traditional Labor Day weekend dates.
In 1996, Atlanta Mayor Bill Campbell presented the convention with a certificate of acclamation for hosting its tenth Dragon Con in the city. By the time Dragon Con departed the Atlanta Hilton as its host hotel in 1996, it had already annexed the Westin Peachtree Plaza for game tournaments, the Atlanta Civic Center for its Masquerade Costume Contest, and nearly a dozen overflow hotels for fans to stay. The Atlanta Business Chronicle currently lists Dragon Con as the city's 12th largest annual convention.
A new chapter begins in 1997 for Dragon Con, as it starts out anew in a modern convention facility called the Atlanta Market Center, ranked as fourth largest producer of conventions in the United States. Dragon Con has signed a new nine-year contract with its hotels and facilities, to help propel North America's largest multi-genre convention into the next millennium!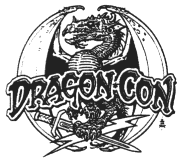 Dragon-Con '97 (June 26-29 '97), Atlanta Market Center, Westin Peachtree Plaza Hotel, Atlanta Hyatt Hotel, Atlanta, GA. Guests: Clive Barker, C. J. Cherryh, Robert Jordan, Mercedes Lackey, and many others. Membership: $25 to 5/31/96, $30 to 10/15/96, $35 to 12/15/96, $40 to 3/15/97, $50 to 5/15/97, $60 at the door. Info: P.O. Box 47696, Atlanta, GA 30362-0626. 404-925-0115. E-mail:dragoncon@dragoncon.org; http://www.dragoncon.org.
More Atlanta area clubs and conventions:
Atlanta: Antares 1996 (November 8-10 '96), Harvey Hotel Powers Ferry, Atlanta, GA. Guests: Harry Turtledove, Robert & Marilyn Teague, Joseph Dickerson, Gregory Nicoll, Wendy Webb, Greg Theakston, Phillip Nutman, Anya Martin, Tom Deitz, Brad Strickland, Ed Kramer, Gerald Page, Bill & Brenda Sutton, Atlanta Radio Theatre. Membership: $20 to 5/1/96, $25 to 9/1/96, then $30. Info: Antares, P. O. Box 1273, Lilburn, GA 30226. E-mail: Belwit@aol.com.
Atlanta: Atlantis (November 14 - 16 '97), Castlegate (Midtown) Howard Johnson, Atlanta, GA. Guests: Jane Yolen, Brad Strickland, Rob Stone, Ed Dramer, Bill Holbrook. Membership: $20 to 9/29/97, $30 to 10/29/97, then $35. Info: The Science Fiction & Mystery Book Shop, Ltd, 2000-F Cheshire Bridge Road NE, Atlanta, GA 30324. E-mail: 629!irv.koch@river.chattanooga.net.
Lebanon: Electrical Eggs Ltd., P.O. Box 308, Lebanon, GA 30146. This organization works with conventions to provide handicapped access. Contact: Samanda b Jeude.
Norcross: IKV K'Tang, 1850-31 Jerry Way, Norcross, GA 30093. Star Trek, especially Klingons. Contact: Steve Morozowsky.
---
Questions? Comments? Send e-mail to: ssmith@smithuel.net
---
Copyright (C) 2000 Samuel A. Smith and T.K.F. Weisskopf All Rights Reserved
Last Revised: Sat Jan 22 14:29:58 CST 2000
Previous | Next | Home